YOUR UTAH ELECTRICIAN EXPERTS
DIY electrical work never ends well. Save yourself the hassle and keep everyone in your home safe by calling the Experts for all of your electrical needs. Our team of Utah Electrician Experts are licensed, experienced, and courteous electricians have the skills and tools to fix any electrical problem, install new features, and provide emergency services to our Utah neighbors. And since we know electrical issues can strike at any time, our services ensure you always have access to the Experts. Whether you're looking for commercial, industrial, or residential electrical work, we've got you covered.
OUR ELECTRICIAN SERVICES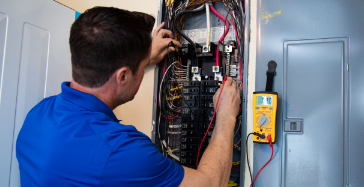 ELECTRICAL REPAIRS
Even though you may be a wizard at home repair projects, electrical wiring work should always be done by professionals. From fixing frequently tripping circuit breakers to installing new light switches, our experienced and trained electricians can repair, install, and replace a wide variety of electrical components. We're confident that no matter the electrical problem, we can resolve your issue and get everything in your home up and running again.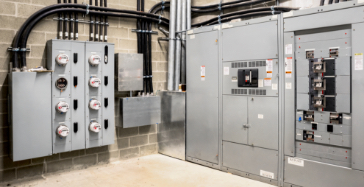 COMMERCIAL ELECTRICAL WORK
Running a business means making sure your commercial space's electrical work is always up to par and properly working. From security systems to fire alarms, your office or storefront needs to adhere to set building and electrical codes in order to operate. Ignoring needed electrical work or forgetting to schedule regular maintenance could spell disaster for your commercial space and even get you in major legal trouble. Make sure your commercial space is up to code by bringing in the Experts.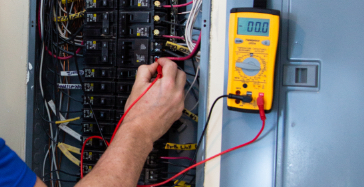 PANEL INSTALLATION & UPGRADES
If your lights are flickering, your appliances keep dying, or if you smell a burning odor near your home's electrical panel, it's time to have the panel replaced. Faulty or outdated electrical panels can cause serious damage to your home's electrical system and can be a serious safety hazard. Our Expert electricians can determine if your home needs a new panel, recommend a type that fits your home's electrical needs, and install your new panel anytime, day or night.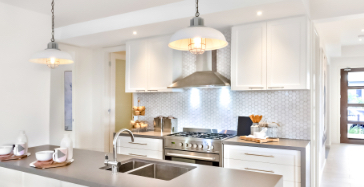 LIGHTING INSTALLATION
Updating your lighting from the standard fixtures that came with your home to something more unique is an easy way to transform the feel of your home. We offer residential and commercial lighting installation services for our Utah customers. Our Expert electricians will install custom lighting fixtures for your home and commercial space to match your own personal style. From indoor ceiling fans and track lighting to outdoor landscape light installations, we can install, repair, and replace all types of lighting fixtures to make your home or commercial space fit your personality.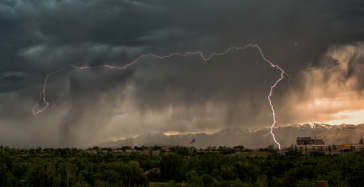 SURGE PROTECTION
From lightning striking your home during a storm to simply turning on your vacuum, electrical surges can happen at any time. And since your home probably has expensive appliances such as TVs, refrigerators, computers, and air conditioners, you want to make sure all of those gadgets and appliances are protected from surges. If your home isn't properly set up with surge protection, one small overload could fry your entire electrical system. Our Experts can install surge protection throughout your home—keeping it and everything inside safe in case of an electrical disaster.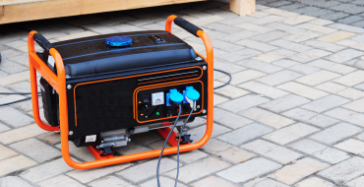 GENERATORS
If you're living in Utah, your home needs to have a backup power supply in case a snowstorm or other bad weather knocks out the power. Generators can provide electricity to your entire home in a pinch—making it a crucial backup power source to have on hand. Make sure your home is prepared for any situation by installing a top-rated generator that will keep the electricity flowing during an outage. And if you already have a generator, our Experts also provide repairs and maintenance services to ensure your unit is in good condition and ready to handle the next power outage.
FAQ
A fuse has a filament that will melt, stopping the flow of electricity and must be replaced. Circuit breakers use magnetic force and can be reset multiple times.
Old wiring and unsafe panels can result in electrical fires. Our recommendation is to have you panel inspected by a licensed electrician to assess your situation.
The biggest savings on your electrical bill is by switching to LED lighting, upgrading to a higher efficiency Air conditioning system, and improving your insulation.